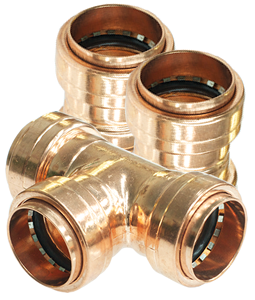 CoproPure push connect Fittings allow for quick and easy installation and provide you with no open flames, sweating, or tricky crimp-style fittings.  Just cut, clean, mark, and push to connect your plumbing fitting and you're done.  What's even better is the fact that you can remove and repair our fittings (if in a very rare case you need to replace an o-ring).
Push Connect Applications
You can use CoproPure push fittings on PEX, CPVC, or Copper.  CoproPure Fittings are great in a variety of applications virtually eliminating the need for messy soldering, dangers of fires, and ease the difficulty of plumbing installation in tight spaces.
Applications
CoproPure Fittings can be used in a variety of applications including but not limited to Potable Water, Heating Systems, In-wall and Sub-Ground Plumbing. Allowing for complete control of your work environment without any open flame, crimping or glue, our lead free CoproPure Fittings are the right choice for your next project.
Frequently Asked Questions
Along with offering quality product, it is important for us at CoproPure to offer customer service that is up to standard with the product that we sell. On our frequently asked questions page you can find the answers to questions you may have.
How It Works
Mark, Cut, Clean, Push! As simple as 1, 2, 3, you have a durable and reliable connection that will last you a lifetime. CoproPure uses dual seal technology that is unlike other plumbing products on the market today.
Technical Specifications
Approved for temperatures up to 200 F and a working pressure of 200 PSI, CoproPure Fittings are not only built to work, but also built to last. On the technical specifications page you can find all of the specifications and features of our CoproPure dual seal fittings.